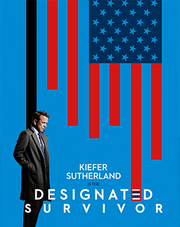 Designated Survivor is an ABC drama series starring Kiefer Sutherland. It was the first series order for ABC in the 2016–17 television season. The show and the first season premiered on September 21, 2016. It was renewed for a second season on May 11, 2017, which premiered on September 27, 2017.[1][2] On May 11, 2018 ABC announced that it would be cancelling production of the show.[3][4] Later, on September 5, 2018, Netflix picked up the show and renewed it for a third season, with Neal Baer as it's fifth showrunner.[5]
Cast
Main
Recurring
Mckenna Grace as Penny Kirkman, Tom and Alex's daughter and Leo's younger sister.[10]
Malik Yoba as Jason Atwood, the Deputy Director of the FBI who spars with Hannah as she conducts her investigation into the attack.[11]
Reed Diamond as John Forstell, the Director of the FBI who led the Icarus investigation.

Kevin McNally

as General Harris Cochrane, the former Chairman of the Joint Chiefs of Staff who refuses to believe Tom is capable of running the country and takes matters into his own hands only to be fired for disregarding orders.[12]

Virginia Madsen

as Kimble Hookstraten, a Republican Congresswoman and the designated survivor for the GOP who supports Kirkman's authority while harboring her own agenda.[13] She is later elected Speaker of the House by the new Congress.[14]

Ashley Zukerman

as Peter MacLeish, a decorated Afghan War veteran and popular third-term Democratic Congressman from Oregon who becomes a national hero following the attack.[15] He is later confirmed by Congress as Vice President only to be fatally shot by his wife before he can reveal information about his involvement in the Capitol bombing.[16]

Mykelti Williamson

as Admiral Chernow, a career military man and the current Chairman of the Joint Chiefs of Staff who quickly becomes one of Tom's most trusted advisors.[17]

Michael Gaston

as James Royce, the Governor of Michigan who defies the Kirkman administration and attempts to establish his own supreme authority only to be placed under arrest for treason.[18]

Mariana Klaveno

as an unnamed clandestine operator in league with the people behind the Capitol attack.

Jake Epstein

as Chuck Russink, an FBI technician who aids Hannah in her investigation.

Lara Jean Chorostecki

as Beth MacLeish, Peter MacLeish's wife who is also involved with the conspiracy behind the Capitol bombing.
References