The Capitol Bombing was a catastrophic attack on the United States Capitol orchestrated by the True Believers during the State of the Union Address given by Robert Richmond on January 20, 2017. The explosion claimed the lives of the President and all members of his Cabinet except for U.S. Secretary of Housing and Urban Development Tom Kirkman, who had been named the designated survivor and Charles Langdon, Richmond's chief of staff. All members of Congress, minus Kimble Hookstraten and Peter MacLeish, were also killed in the attack.The nine Justices on the Supreme Court were also killed in the attack. In addition, it was the greatest attack on the United States since the 9/11 bombings of the Twin Towers.
History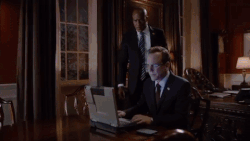 Through Jay Whitaker, the True Believers managed to get their hands on File 12-80C, a confidential file that was a simulation of the Capitol bombing.
Later, a group of people who were actually part of the True Believers were scheduled to renovate the Capitol. Taking advantage of this, the conspirators secretly planted multiple Russian anti-tank mines supplied from Browning Reed (including one dud) and built a bomb shelter beneath the Capitol, intended for Peter MacLeish. Some time after, all the renovators died and their deaths were labelled under accidents or natural causes.
During the State of the Union, the resulting explosion wiped out most of the government, except for Peter MacLeish, who was hiding in the secret shelter. He was recovered from the rubble soon after.
Bribed by Catalan, Majid Nassar, the leader of Algerian terrorist group Al-Sakar claimed responsibility for the bombing via a video sent to the government by Whitaker in order to divert attention away from the actual conspirators. FBI agent Hannah Wells wasn't convinced he did the attack and eventually figured out he was set up.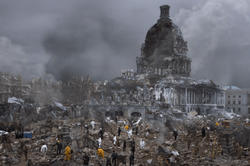 After Gabriel Thompson gave back the files he stole to President Kirkman, the latter learned of the existence of File 12-80C and its connection to the bombing and came to the conclusion that there was a traitor inside the White House.
After Hannah uncovered a thumb drive possessed by Brooke Mathison, she discovered simulations of other landmarks exploding using the same anti-tank mines, which included the Golden Gate Bridge, the Hoover Dam and the Statue of Liberty, although the files turned out to be decoys.